"radical, militant librarian" button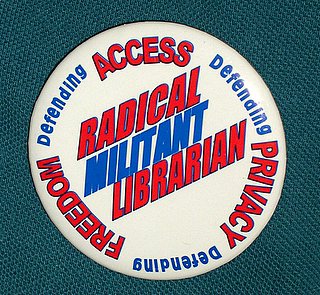 in recognition of the efforts of librarians to help raise awareness of the overreaching aspects of the usa patriot act, the american library association (ala) office for intellectual freedom (oif) is offering librarians an opportunity to proudly proclaim their "radical" and "militant" support for intellectual freedom, privacy, and civil liberties.
to order the button, contact aaron gingrich at the ala office for intellectual freedom at 1-800-545-2433, ext. 4220, agingrich@ala.org , or order online at the radical, militant librarian button secure online order form , which is e-mailed directly to him. you also may order the button by writing aaron gingrich, office for intellectual freedom, american library association, 50 e. huron st., chicago, il 60611. you also may fax your order to aaron, using the radical, militant librarian button pdf order form (pdf).
inspiration for the button's design came from documents obtained from the fbi by the electronic privacy information center (epic) through a freedom of information act (foia) request. the request revealed a series of e-mails in which fbi agents complained about the "radical, militant librarians" while criticizing the reluctance of fbi management to use the secret warrants authorized under section 215 of the usa patriot act . of course, in part because of the efforts of "radical militant librarians" arguing on behalf of their users' right to read freely, without government interference or surveillance, congress voted to extend its debate on the renewal of the usa patriot act.
alai? 1/2 s office for intellectual freedom sells the "radical, militant librarian" buttons for $2.00 (1-10 buttons); $1.50 (11-50 buttons); and $1.25 (51 or more). all proceeds support the programs of the office.
visit usa patriot act for more information.
---
links to non-ala sites have been provided because these sites may have information of interest. neither the american library association nor the office for intellectual freedom necessarily endorses the views expressed or the facts presented on these sites; and furthermore, ala and oif do not endorse any commercial products that may be advertised or available on these sites.
---
related files
radical, militant librarian button order form (pdf file)


related links
radical, militant librarian button secure online order form
usa patriot act and intellectual freedom